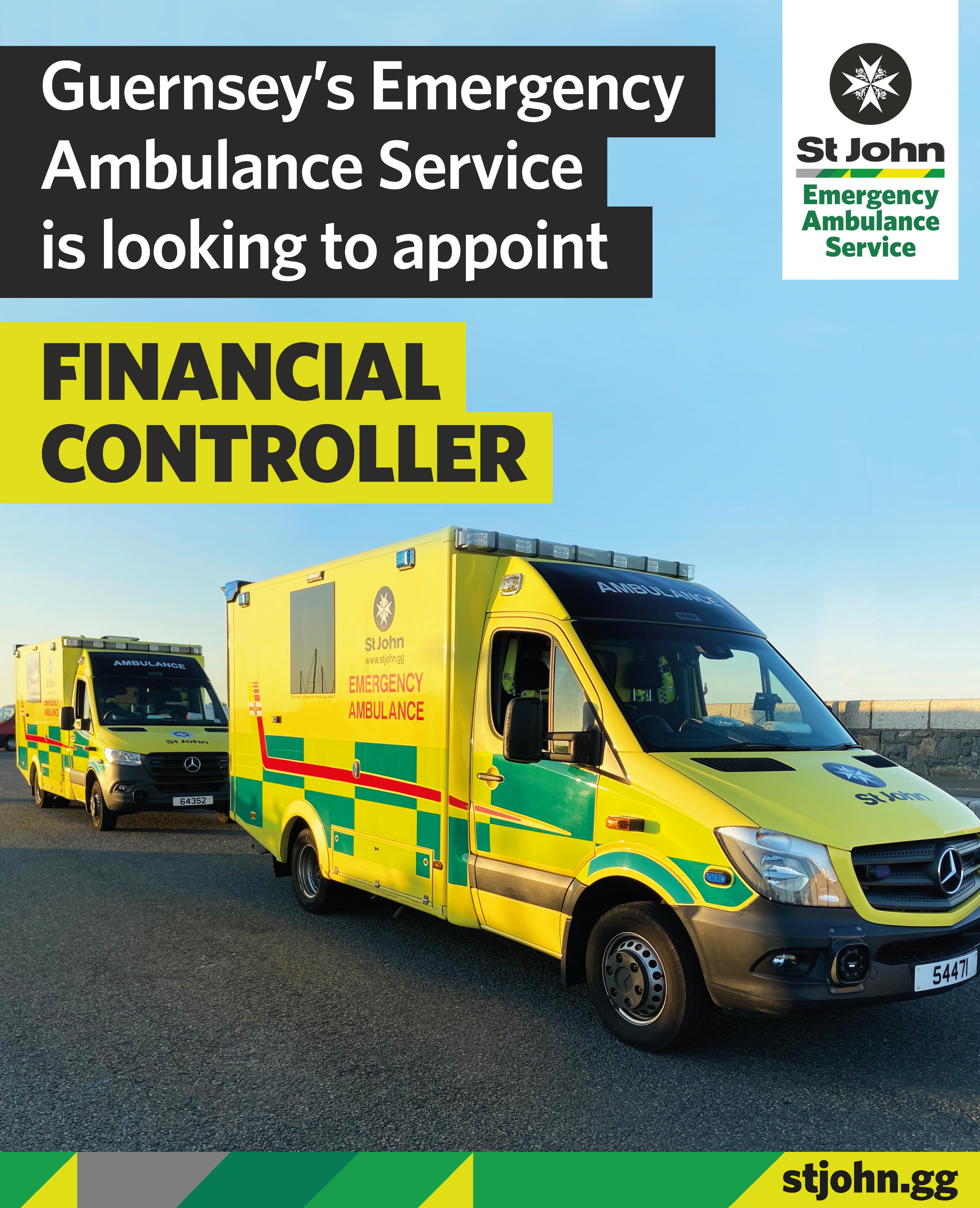 St John Emergency Ambulance Service are seeking a Financial Controller to join their Senior Leadership Team, responsible for financial planning and analysis, forecasting, budgeting, and finance governance.
The postholder is responsible for financial reporting to CAO, SLT, the Board of Directors and States of Guernsey Government Departments, as well as compliance with government regulations.
The postholder must be an enthusiastic and friendly professional demonstrating excellent communication and interpersonal skills, together with a commitment to provide an excellent accounting function for the EAS.
The postholder should possess outstanding mathematical skills; honesty; integrity; reliability; solid written and verbal communication skills; high attention to detail; organisational skills; critical thinking and problem-solving skills; research skills; analytical skills; computer skills.
The post holder requires excellent excel skills including good use of excel formulas such as v-lookup & IT functions to perform beneficial data analysis where required & present in a form that is easy to understand and interpret.
The Financial Controller will contribute to the operational and strategic direction of the service area that supports The Office of the Committee for Health & Social Care Partnership of Purpose and EAS contract. The post holder will work closely with SLT, sharing work streams and responsibilities to ensure the delivey of a range of projects and contribute to the wider EAS strategy.
The post holder will work alongside and collaboratively with the EAS SLT, EXCO, Board and States of Guernsey Departments (SOG), to ensure the organisation is professionally managed including financial governance, risk management, financial control to allocated budget lines, business development and best practice guidelines. The ability to work with a minimum of supervision and to be self-motivated is essential.
The post holder must have excellent communication skills as they will have to motivate and persuade staff members with varying levels of experience.
This job description is a broad outline only, allowing for scope, development and job satisfaction.
Review of this job description may take place at any time, but specifically at yearly intervals.
Key Responsibilities
Develop budgets and financial plans for the EAS based on research and data reports, reviewing plans and budgets regularly with SLT to look for cost reduction opportunities.
Create quarterly and annual reports to identify results, trends, and financial forecasts / budgets for the CAO, board and in a timely and efficient manner.
Oversee and advise on company accounts, investments & pensions schemes.
Supporting the EAS administration team & EAS subscription scheme. Specifically focusing on income generation from the subscription scheme and non-subscription ambulance call outs & determining the most effective mix of these incomes in aggregate.
Support the EAS operational staff to establish targets that can be set for fund raising campaigns & the most efficient usage of cash balances & reserves.
Manage the accurate and timely payment of all salary liabilities and pension contributions for employees including reporting and submission to relevant authorities.
Manage cash flow focusing on reducing the cash inflow cycle to a minimum and managing the cash outflow based on available timely funds.
Manage the renewal of insurances, ensuring best value for money.
Manage, review and audit business partner contracts, such as Information & Technology.
If required, supervise and manage financial department staff, including financial assistants & administration staff.
Suggest updates and improvements for accounting systems where required.
Ensure controls and systems are effective, updated and implemented where required to prevent errors and comply with local regulations and legislation.
Collaborate with auditing services annually to ensure proper compliance with all regulations & timely audit completion.
Assist the CAO/SLT to develop budgets and financial plans for EAS based on research and data reports.
Review all financial plans and budgets regularly to identify results, trends and financial forecasts including any cost saving opportunities.
Examine all financial reports and data closely to check for discrepancies.
Assist the CAO/SLT in presenting reports to senior executives, stakeholders, and board members.
Build & maintain a good working relationship with EAS main stakeholder the States of Guernsey, forming the most efficient method of data reporting and information sharing.
Other areas of responsibility
Develop effective channels of communication between the Commandery group with regard to any financial inter division information & accounting.
To act as a mentor / preceptor / supervisor to all relevant team members.
To contribute to the monitoring and reviewing of revenue generation through analysis of the different mix of revenue streams.
Liaise with the local government departments to ensure that a good working relationship is maintained & thus ensuring that sales invoices are settled on a timely basis & allocated to the correct department for varying types of Ambulance journey.
Help develop and recommend any areas of improvement that can be created with the accounting function & be looking to find efficiencies and technical innovations wherever necessary.
Ensure that all accounting data held is compliant with GDPR requirements.
Perform any other duties commensurate with these responsibilities, the rank of the position and the skills and qualifications of the post-holder.
Essential Requirements
Qualified Accountant (ACA or ACCA)
4 years accountancy role experience
Producing Financial & Budgetary Reports to Board of Directors
Preparing UK GAAP standard accounts
Proven ability to learn and interpret guidelines across all areas relevant to UK GAAP Financial reporting standards
Sage, QuickBooks, & Xero accounting packages
Coaching, and mentorship skills
Being responsible for a payroll function as part of previous role
Excellent written, oral and electronic communication skills with high attention to detail
Ability to manage own work and meet deadlines and motivate others
Excellent IT skills (Microsoft Word and Excel skills)
Evidence of self and professional development and a portfolio of continuing professional development
The ability to work with and relate to all levels of staff and volunteers across St John
The ability to manage challenging situations and influence change
Professional approach to work with high standards, data protection and confidentiality
Desirable but not essential requirements
Degree in a related field
3 A Level's attained at grade C or above
5 GCSE's or equivalent at grade C / level 4 or above
Supervisory experience
For applications or further information please contact admin@focushrs.com